Data backup and disaster recovery to protect all you've built in Troy, Birmingham and Rochester Hills
"If all my business data backup files were destroyed, could I get back on my feet?"
Are you sick and tired of worrying about protecting your business from things you can't control? These are real concerns for business owners today.
With automated Computer Hard Drive Backup and Disaster Recovery from Computer Technologies, Inc., you can ensure your business is safe in Troy, Birmingham and Rochester Hills.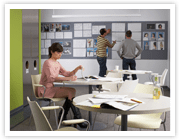 A Disaster Recovery & Data Backup and Disaster Recovery solution from Computer Technologies will help you to:
Continue working as usual - with Data Backups that will decrease downtime in the event of a disaster.
Protect your entire business - we safeguard your entire system by providing Back Up and Recovery that covers all your bases.
Stop stressing over things that are out of your hands - with a reliable partner in comprehensive Business Continuity.
With our strategic approach to Disaster Recovery & Data Backup, you can stop stressing over what could happen and focus on what really matters: your business.
Computer Technologies provides expert backup solutions to protect your business from the accidents and disasters that threaten it. Serving Troy, Birmingham, Rochester Hills, Southfield, Pontiac and Detroit, our data backup and computer hard drive backup solutions give you the power to achieve your goals, no matter what comes your way.
If your organization requires a Disaster Recovery and Business Continuity Plan, Online Backups, Hard Drive and Data Backups, Offsite Data Backup & Recovery Services, Computer Backups, Virtual Data Recovery, Hard Drive and File Data Recovery, Computer Recovery, or Remote Data Backup - we can handle it all.
Don't allow a disaster destroy everything you've worked for. Get a Disaster Recovery and Data Backup solution that will allow you to stay on track, no matter what comes your way.
Start protecting all you have built.
Areas Covered
We offer a wide array of Computer Support, ranging from Cloud Computing Solutions, IT Consulting, Network Services Solutions and fixed-rate computer support throughout Troy, Birmingham, Rochester Hills, Royal Oak, Southfield, Pontiac and Detroit.
These team of highly efficient experts will even visit your business on-site: Troy network services, Birmingham IT consulting, Rochester Hills computer support, Troy Backup and Disaster Recovery, Birmingham Information Technology Consulting, Rochester Hills Cabling and Office Moves, and Troy Anti-Virus and Security.