Economical IT Help and Computer PC Repair on your terms, throughout Troy, Birmingham and Rochester Hills
"Why am I constantly chasing down an IT guy who charges too much and takes forever?"
Are you sick and tired of paying for slow and incompetent IT help? For business owners like you, this happens all too often.
Computer Technologies, Inc. is there when you need affordable IT help and computer PC repair to help run your Troy, Birmingham and Rochester Hills business smoothly.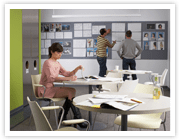 With Computer Technologies at your disposal for IT help, you get:
Predictable budgeting - by using the pay-as-you-go fee structure for your IT help.
The comfort of having your very own IT staff - without having to worry about hiring a full-time Technology Support employee.
Fast response times in the event of a technology issue - helping you get back to business faster when something goes wrong.
Computer Help and IT Support On Demand lets you depend on your technology, even when the inevitable occurs.
Computer Technologies provides expert IT support and computer repair only when you need it, so you can enjoy the benefits of advanced technology without worry. Serving Troy, Birmingham, Rochester Hills, Southfield, Pontiac and Detroit, our IT support and computer software help can help you simplify the IT budgeting process.
If you need PC tech support help online, computer diagnostics, remote PC repair, software help, computer repair services, software help, online computer support, computer help, computer and technology support, fix computer problems, or PC help & IT Help - you can depend on us.
Tired of wasting valuable time looking for the right IT company? Get a better solution, with affordable IT help that's there when you need it.
Experience the Computer Technologies Difference
Areas Covered
We offer a wide array of Computer Support, ranging from Cloud Computing Solutions, IT Consulting, Network Services Solutions and fixed-rate computer support throughout Troy, Birmingham, Rochester Hills, Royal Oak, Southfield, Pontiac and Detroit.
These team of highly efficient experts will even visit your business on-site: Troy network services, Birmingham IT consulting, Rochester Hills computer support, Troy Backup and Disaster Recovery, Birmingham Information Technology Consulting, Rochester Hills Cabling and Office Moves, and Troy Anti-Virus and Security.