What Makes Us Different
There is no other IT consulting, cloud hosting, or cyber security solutions
company in Troy, Birmingham and Rochester Hills that can give you this:
We deliver only WHITE GLOVE Support. This reflects our commitment to provide the optimal customer experience. We believe this commitment goes hand-in-hand with delivering the technology solutions you need to advance your business.
We SPECIALIZE in working with fast growing small businesses. For over 30 years, we have been leveraging our expertise and established policies and procedures to show small businesses how technology can be used to help them grow into secure, sustainable, and profitable companies.
We only employ QUALIFIED, SEASONED IT veterans. Our staff consists of highly trained and experienced IT technicians, not customer support representatives, meaning more knowledge and experience to solve problems faster and more effectively because growing businesses don't have time to waste with entry-level technicians.
We ALWAYS answer your call. We know the last thing you want is to tell a voicemail about your issue which is why we ensure a live person will answer your call 24/7.
We are UNIQUELY QUALIFIED to provide Cyber Security solutions. You have heard the hype about cyber security- ransomware, crypto locker, data breaches occurring at even the largest and supposedly most secure companies (think Equifax). Unlike other computer support companies with little or no actual knowledge or interest in cyber security, we are truly invested in ensuring security at a local and national level. Our owner is a member of InfraGard, a partnership between the FBI and private sector that includes government officials, business executives, and entrepreneurs, among others, who work with the government to promote learning opportunities pertaining to the protection of the country's Critical Infrastructure.
We GUARANTEE 1-hour response time to network emergencies. When your computer network goes down in the middle of a busy work day, you need it fixed immediately so your employees aren't sitting around taking a $10,000 coffee break waiting for their computers to come back online.
We Support Both On-Premise And Cloud Solutions. Some IT firms won't offer or recommend cheaper cloud solutions because THEY make less money. Our philosophy is – and always has been – to offer what's BEST for the customer, not us. That's how we keep so many customers long-term. We'll base our recommendations on what YOU need and what YOU feel most comfortable with. Our job is to lay out your options, educate you on the pros and cons of each and guide you to the best, most cost-effective solution for you.
We GUARANTEE to solve your computer problem right the first time or it's FREE. We take extra steps up front to make sure we thoroughly understand the problem, and create a well thought out approach for solving it. This enables us to avoid mistakes and overlooked issues that delay the completion of your project and cost extra in billable hours. We maintain a 99% "fix it right the first time" track record; and if we can't solve the problem to your satisfaction, our visit is free [see #11].
We give flat rate project pricing. Unlike other computer support companies that give you an estimate with an hourly rate for "unexpected circumstances", we'll give you one flat rate for a project and guarantee to deliver your solutions without charging a penny more. This gives you peace of mind knowing you won't end up with a bill 2 or 3 times more than you anticipated, or getting hit with hidden charges or extra hours.
We listen first, and offer solutions second. No one knows your business better than you. We'll work with you in solving your problems and keep you involved with what we are doing. We won't try to keep you in the dark or dazzle you with acronyms. We'll answer every question you have in plain English and make sure you understand what options you have available so you can make decisions based on your priorities and budget – not just because we say so.
We are the ONLY technical support company that offers a no-risk, 100% money back guarantee. Hire us to come on-site and put an end to your most challenging computer problems. If after our first visit you are not happy with our technicians or the work we perform, you can cancel your service agreement and we will refund your payment for that full day. No risk, no hassle, and no obligation. What could be fairer than that? No other technical support company will stand behind their work the way we do at Computer Technologies, Inc.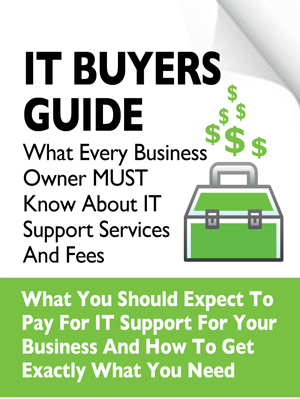 How To Get Exactly What You Need For Your Business Without Unnecessary Extras, Hidden Fees and Bloated Contract
If you are looking to outsource some or all of your IT support, this FREE Guide: What You Should Expect To Pay for IT Support For Your Business contains important information that will be extremely valuable in your search for a competent firm you can trust.