Long-term Office Moving and Office Cable Installation services for developing businesses like yours throughout Troy, Birmingham and Rochester Hills
"How often do businesses rewire their entire offices for new IT?"
Is your current technology infrastructure becoming more and more outdated? Wondering how to make your rewire a long-term investment?
Computer Technologies, Inc. provides office moving and office cabling services that will give long-term performance, scalability, and reliability to your business in Troy, Birmingham and Rochester Hills.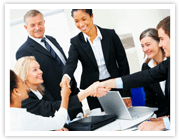 The professionals at Computer Technologies provide dynamic office cable management services that can:
Transition as your business grows - with office cabling services that are built to last.
Provide ROI - with office moving solutions based on a predictable flat rate.
Eliminate lost productivity - with relocation services and solutions that can be installed without taking time away from your business.
If your technology infrastructure doesn't grow and change as your business does, your investment in IT is far from cost effective.
Computer Technologies has a team of experts that can create a network and cabling plan to benefit your business for many years to come. Serving Troy, Birmingham, Rochester Hills, Southfield, Pontiac and Detroit, our technicians can provide you with the office cable management services that keep your business moving forward.
Whether you need a solution that includes communications cabling solutions, network cabling, structured cabling plans, office moving, office cable management, equipment/server racks, office cabling services, or structured cabling installation - you'll know you've invested in the future of your business.
Our expertise goes beyond industry standards, so your strategic cabling solution is one you can rely on for a long time to come. Meet your long-term business goals with office cabling services and office moving solutions that are designed to last.
Experience the Computer Technologies Difference
Areas Covered
We offer a wide array of Computer Support, ranging from Cloud Computing Solutions, IT Consulting, Network Services Solutions and fixed-rate computer support throughout Troy, Birmingham, Rochester Hills, Royal Oak, Southfield, Pontiac and Detroit.
These team of highly efficient experts will even visit your business on-site: Troy network services, Birmingham IT consulting, Rochester Hills computer support, Troy Backup and Disaster Recovery, Birmingham Information Technology Consulting, Rochester Hills Cabling and Office Moves, and Troy Anti-Virus and Security.